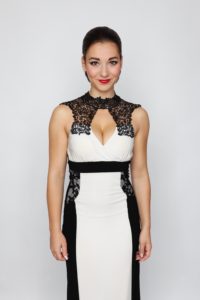 Tereza Štěpánková since the season 2020/21 sings as a soloist in the National Theatre Opera in Prague and currently won a golden medal at the Manhattan International Music Competition (June 2022).
She was born in Pilsen, Czech Republic and studied classical singing at the Conservatory in Pilsen in the class of Valentina Čavdarová (2011–2014). Then she studied at the Conservatory in Pardubice in the class of Jarmila Chaloupková (2014–2017).
In 2014 she was on a study stay at the Conservatory in Limoges, France. She took an active part at several masterclasses, for example with Edita Gruberova, Margreet Honig, Simona Šaturová, Kateřina Kněžíková, Antonio Carangelo and others.
She also got some prizes at several competitions, for example in 2016 at the International singing competition of Antonín Dvořák in Karlovy Vary in the category Opera hopes (1st prize) an in the same year at the Singing competition in Olomouc (1st prize).
Since 2012 she was a guest soloist in J. K. Tyl Theatre in Pilsen where she sang in shortened versions of operas for children (First Wood Sprite – About Rusalka, Queen of the Night – Papageno in the Enchanted Forest) and she also appeared in the role of singer Nora Melrose in a play Vila Verdi. She is a guest soloist in the Northbohemian Theatre in Ústí nad Labem where she sings the role of the Queen of the Night (W. A. Mozart – Magic Flute) and also in the National Moravian-Silesian Theatre in Ostrava where she sings First Wood Sprite (A. Dvořák – Rusalka). Since the 2020/2021 season she is a soloist of the National Theatre Opera in Prague where she sings roles such as Papagena (W. A. Mozart – Die Zauberflöte), Barbarina (W. A. Mozart – Le Nozze di Figaro), First Wood Sprite (A. Dvořák - Rusalka), Esmeralda (B. Smetana – The Bartered Bride) etc.